Challenge
The intersection of Hampshire St and Cambridge St in Cambridge, Massachusetts' busy Inman Square presented a familiar challenge for cities. Due to its low-angle skew, the intersection expanded over 250 feet, creating a confusing and chaotic environment for anyone passing through. With almost as many bicycles as cars on some approaches–not to mention pedestrians and buses–accommodating everyone was nearly impossible. With no obvious conventional solution, local advocates recognized the need to innovate, which led them to Kittelson's Boston office.
Solution
While previous efforts to fit a traditional roundabout in Inman Square failed due to a lack of space, Kittelson identified a solution using a pair of mini-roundabouts connected in the middle. The resulting peanut-shaped, protected mini-roundabout led the Boston Cyclists' Union to coin the term "peanutabout."
The elongated roundabout turned sharp corners into smooth turns to create a more comfortable design for everyone. With bike lanes along the perimeter and raised crosswalks, cyclists and pedestrians have safer, designated routes that are more visible to drivers.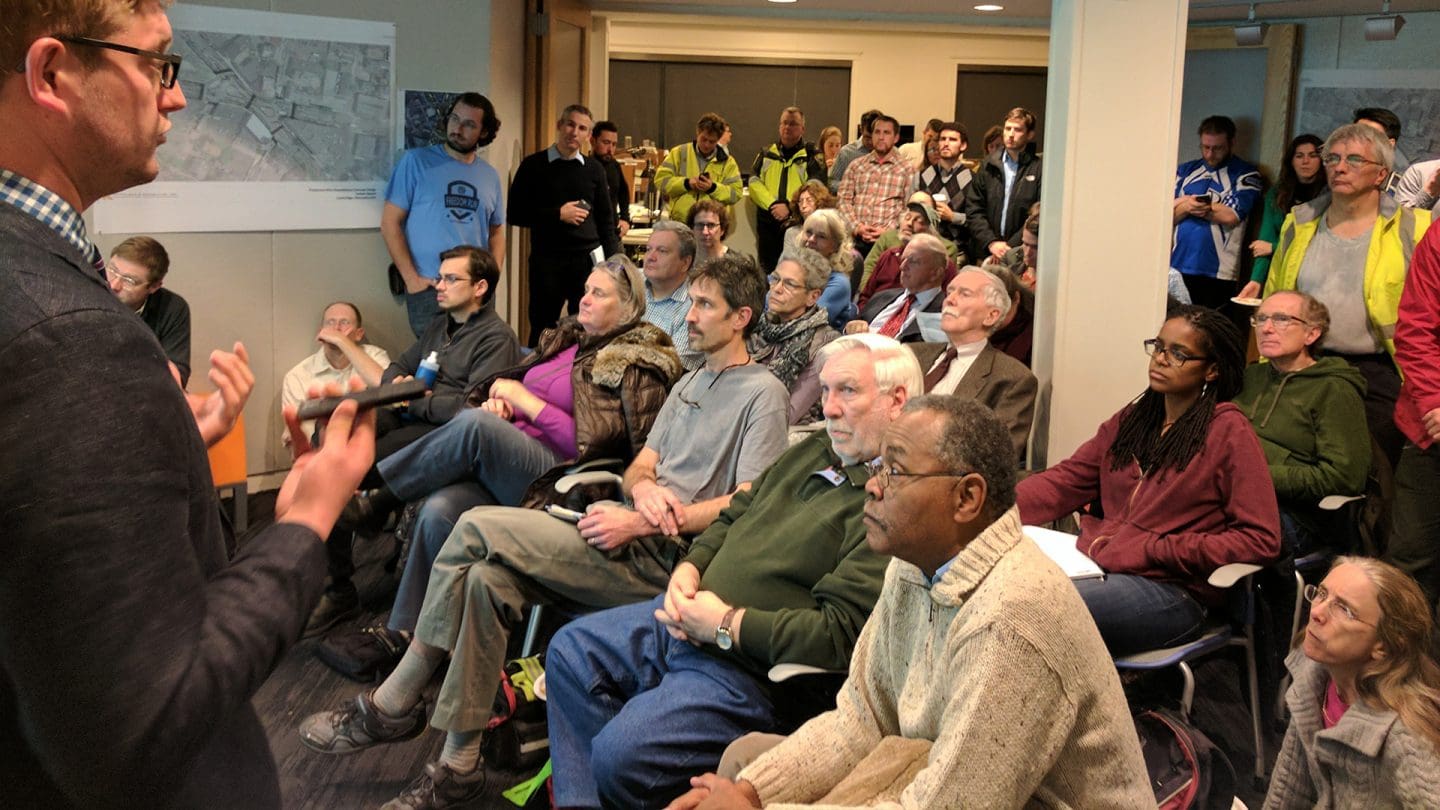 The Outcome
Creating the First Peanut-Shaped Roundabout
The elongated roundabout design turns sharp corners into smooth turns to create a more comfortable design for everyone.
For Cyclists: inspired by learnings from Scandinavia, Denmark and The Netherlands, we designed a protected bike lane on the outside of the roundabout.
For Trucks: we designed a flex space for trucks. Using bumps in the road that only larger vehicles can cross, we created a space for trucks when the need to take advantage of smoother turns.
For Pedestrians: raised crosswalks help give pedestrians priority as they cross the intersection. Like with bikes, pedestrians only intersect with vehicles for short periods of time and at a few points.
For Residents: smart urban design helps create more space for things like cafes and public seating.
For the city: it puts Cambridge on the map as an urban design innovator by developing the first roundabout with protected bike lanes in  the nation.